Muay Thai diet plan: A thorough and good Muay Thai training also includes the proper nutrition. This is the only way how you can stay in peak performance and achieve your goals. Since fighters also must maintain their weight class, proper nutrition is especially important. Here are all the tips for a proper Muay Thai diet Plan:
Muay Thai Diet Plan – Optimal Nutrition for MMA Fighters and Thai Boxers
Below you'll find four diet plans for martial arts training. Depending on your personal target and goals to achieve you can select your optimal nutrition plan for Muay Thai training.
Attention: All diet plans are only rough guidelines and guidance. Each fighter has to find its own optimal diet plan!
General knowledge about Thai Boxing Nutrition:
Also in Thai boxing and other martial arts proper nutrition is one of the most important things. The following general principles apply to all Muay Thai diet plans and should always be observed:
Unhealthy fats from animals should be avoided as far as possible. One exception is the healthy Omega 3, which is taken when eating fish.
Sugar should be completely avoided. Foods such as chocolate, cola and other sweets are taboo. An exception is fructose, which you can also enjoy in moderate amounts.
Avoid wheat products. Wheat products should generally be avoided. Instead to eat white bread you should largely rely on whole grain bread.
Avoid fried foods. Fried foods are extremely unhealthy and greasy. Even if they still taste so good, you should avoid them completely.
Muay Thai Nutrition for training in Thailand:
Fighters who train in Thailand don't have to pay as much attention to their diet because the regular Thai food is extremely well balanced, low fat and very healthy. However, there are some foods with fried components, which should be avoided of course.
Food you can eat without doubt: rice, beef, fish, chicken, all kinds of vegetables, Thai curries and more.
Between meals, snack fresh fruit or vegetables. Even healthy fresh juices are very useful in healthy and moderate amounts.
Thai Boxing Diet Plan in Thailand:
You should eat in the morning 1-2 hours before training or only then after the training. Who eats only after training, should drink a glass of warm water before the running workout. After training you should take care with a rehydration drink for a good mineral balance.
In the morning:
One glass of juice, water or milk
1 typical Thai Rice dish or Oatmeal
1 apple
Lunch:
Water in adequate quantity
Thai rice dish with meat such as beef or chicken
Vegetables
In the evening:
Water in adequate quantity or rehydration drink. If not drunk in the morning.
Fish or meat dish with rice and vegetables
Supplements such as protein shake or magnesium, calcium, and vitamin C.
Who is training in Thailand at a camp, will eat healthy automatic. The local coaches know what is the best food for their fighters. However, you can still support your diet with some supplements:
Rehydration Drink -> balanced mineral balance
Magnesium and calcium -> Good for bones and muscles
Vitamin C -> Good for the immune system
Protein Powder -> Optimal supply of important proteins to protect the muscles
Power bar -> Extra Boost
You will probably observe not many Thai boxers who support their diet with supplements. This is due to one that the Thai food culture is already very healthy, and on the other hand it is of course always a question of money.
Muay Thai Nutrition for training in western countries:
Eating healthy everyday is often not so simple in the western hemisphere. Too many temptations are against us daily. In addition, the western food is not nearly as balanced and healthy as those in Thailand. Here we have compiled you a rough diet plan for Muay Thai training.
Thai Boxing Diet Plan in western hemisphere:
Please always wait 1-2 hours between meals and training.
In the morning:
One glass of juice, water or milk
1 oatmeal, cereal, Power flakes or wholemeal bread
1 apple
Nutrition supplements such as vitamin C, calcium, magnesium
Lunch:
Water in adequate quantity
1 balanced meal low in animal fats: rice with chicken, fish or beef. Vegetable dishes. Don't eat fried foods!
1 yogurt
In between: protein bars and energy bars
In the evening:
Water in adequate quantity or rehydration drink. If not drunk in the morning.
Fish or meat dish with rice and vegetables
Supplements such as protein shake or magnesium, calcium, and vitamin C.
In general, you should also particularly avoid oily and fried foods. Healthy fats from fish dishes, however, are perfectly fine. You can support your diet as described below through nutritional supplements.
Muay Thai diet plan for weight loss / weight gain: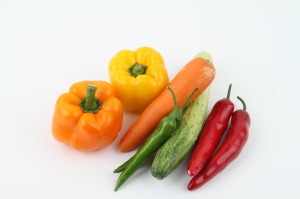 In combat training, it is often necessary to increase or loss weight. You for yourself know your body best and know how much is good for you. If you want to increase you should just increase your intake. In addition, you can fall back on carbohydrate rich food. Animal fats should nevertheless remain a no go.
For weight loss a reduction in the amount of food is required. Not eating rice and other carbohydrates is helpful. But always remember that your body converts carbohydrates into energy. If your tank is empty, you can not train properly. Determine the optimal daily requirement for you. Your coach will certainly help you.
Food you can eat all time:
Raw food like vegetables, meat, water, fruit in suitable quantities (best berries and melons)
Nutrition supplements for optimum combat sports diet plan:
A detailed article on dietary supplements in the martial arts can be found here.
Here is a rough overview on which supplements can help you to train more effective.
Power flakes
Power rice
Rehydration drinks
Vitamin C
Vitamin D3
Magnesium
Calcium -> Shin Conditioning
Power Bars (carbohydrates)
Omega 3 capsules
Protein products like shakes, yoghurts and protein bars
See detailed information about Nutrition Supplements in MMA and Muay Thai Training
---
!This Muay Thai diet plan should represent only a rough guideline. Every organism is different. You have to find out for yourself your ideal diet. However, with the tips above, it will be much easier for you!
Also available in: German, Thai