The Whai Khru is an integral part of every Muay Thai fight in Thailand. Outsiders rarely know why this ceremonial "dance" is performed before the fight. Here come all information about the traditional Wai Khru and Ram Muay.
Wai Khru Ram Muay – A Muay Thai Tradition
The Wai Khru is simply expressed a homage to the coach, the chairman of the competition and the king, who was present in earlier times to many Muay Thai Fights. If a fighter does not perform the Wai Khru before the fight, he does not respect his trainer. This is probably one of the worst insults. The Wai Khru is however usually performed only in Thailand. Khmer boxers from Cambodia or Lethwei fighters from Myanmar not have such a tradition like the Wai Khru / Ram Muay.
Performing the Wai Khru: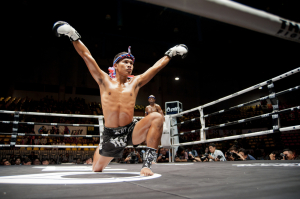 The fighter circles the ring three times. Then he kneels down and bends 3 times to pay homage to the gods. In the traditional sense, the fighters pays respect to Buddha and asks him to protect himself and the opponents as well.
On Wai Khru the Ram Muay follows. This is a fixed rehearsed movement, which is different from school to school. It can also be funny and largely depends from the fighter and his trainer. However, the Ram Muay is a serious matter. The Ram Muay helps the fighters not only to find their way in the ring, but also warms up the muscles a little bit and promotes the concentration. In addition, style and control of the movements of a fighter can be expressed by the Ram Muay.
The Ram Muay is a personal matter and can occur very simple or extremely complex. Big Muay Thai Fans even can recognize in which Muay Thai Camp the Fighter is living by performing the Ram Muay.
The entire ceremony is accompanied by music from a Thai music orchestra. This gives the rhythm during the Ram Muay and also later during the fight.
Wai Khru ceremony
Wai Khru Ram Muay documentation
Also available in: German, Thai