Muay Thai Breathing Techniques Guide: Muay Thai and Martial Arts emphasize the significance of proper breathing as a crucial aspect of the vital life process. Achieving optimal oxygen supply to the body is paramount, making the mastery of appropriate breathing techniques particularly essential in sports. Explore the nuances of breathing in Muay Thai and Martial Arts for a comprehensive understanding.
Table of Contents
Optimal Breathing Techniques for Muay Thai, MMA, and Daily Living
While breathing is a reflex controlled automatically by the body, individuals engaged in intense sports like Muay Thai must specifically train in proper breathing techniques. This training enhances efficiency during both workouts and fights. Additionally, conscious control and optimization of breathing can be implemented. Discover the most effective breathing techniques for Muay Thai practitioners below.
Overview of Breathing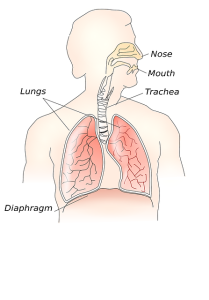 During respiration, air enters the lungs through the mouth or nose. Initially, tiny hairs in the nose clean the air, while mucous membranes humidify and warm it. The alveoli then facilitate the absorption of oxygen into the bloodstream, while, conversely, carbon dioxide is released from the blood into the air through the alveoli.
The respiratory muscles ensure that organs receive oxygenated blood, sustaining the body's overall efficiency. This underscores the critical role of proper breathing, particularly in martial arts.
Facts:
The respiratory rate of an adult at rest is about 11-15 breaths per minute.
Approximately 0.5 liters of air can be inhaled per breath.
The composition of the inhaled air: 78% nitrogen / 21% oxygen / carbon dioxide 0.04%
The composition of the exhaled air: 78% nitrogen / 17% oxygen / 4% carbon dioxide
Unconscious Breathing Reflex
The process of breathing is inherently automatic, regulated by the brain's respiratory center in the medulla oblongata. Chemoreceptors within this center respond to the blood's carbon dioxide levels, governing the respiratory rhythm.
However, conscious control of breathing is possible and is frequently employed by athletes. Moreover, controlled breathing is harnessed in practices such as meditation to foster inner peace and enhance concentration.
Enhanced Well-being through Deep Breathing – Respiratory Health
Engaging in proper breathing can yield positive effects on organs and circulation in daily life. The constant inhalation and exhalation serve to "massage" internal organs, providing notable benefits for the heart, which experiences significant relief. Deep breathing, facilitated by the downward movement of the diaphragm, contributes to its extension.
Conversely, improper breathing can have adverse effects on our organism. The most prevalent causes of respiratory failure include the following:
Excess Weight, Poor Posture, Hectic Lifestyle
Frequently, these three factors significantly impact respiration. Shallow breathing is a common result, leading to the constriction of the finest capillaries in the lungs. Consequently, oxygen uptake decreases, requiring the heart to beat more rapidly even during periods of rest, resulting in an overall decline in performance.
Furthermore, back pain can profoundly influence respiration. As a reflexive and protective measure, deep inhalation may be hindered to avoid exacerbating discomfort. While this may provide relief from unpleasant pain, it also contributes to a reduction in overall performance.
Simple Breathing Assessment
Take note, particularly in stressful situations, of whether your breathing remains shallow.
Consciously assess your posture by taking a deep breath. If adjusting your posture improves your ability to inhale deeply, it indicates incorrect posture.
Experiencing back pain when inhaling deeply? Breathe deeply and forcefully! If you feel tension or pain, you may be dealing with back issues that impede your breathing.
Easy Tips for Improved Breathing in Daily Life
Maintain an upright posture.
Avoid crossing your legs while sitting.
Ensure regular ventilation of your surroundings.
Strengthen your abdominal muscles.
Engage in hearty yawning to supply your body with oxygen.
Breathing as a Mirror of the Soul
Our breathing is subconsciously shaped by external factors and our emotional state. To achieve a complete and harmonious breath, as well as a deeper appreciation of life, it's essential to tune into oneself. Practices like yoga or meditation contribute to improved breathing and are widely embraced by Thai boxing and MMA fighters.
Proper Breathing Techniques and Breathing Exercises in Muay Thai
Mastering the art of breathing is fundamental in Muay Thai, impacting not only performance but also overall well-being. Through specific breathing techniques and exercises tailored to the demands of this martial art, practitioners can enhance their stamina, focus, and effectiveness in the ring.
Pre-Training and Everyday Breathing Exercises
Enhancing Internal Organ Function through Deep Breathing: In the midst of daily stressors, deep breathing can be a transformative practice. Whether gearing up for a fight or training session, it serves as a valuable preparation, ensuring optimal oxygen supply to vital organs.
How to Practice Deep Breathing: Maintain an upright posture, whether standing or sitting. Let your arms hang loosely and relaxed at your sides. Inhale deeply and robustly through your nose, ensuring the air reaches both your stomach and chest. Exhale slowly through your mouth, releasing the breath deliberately. This practice cultivates a centered and oxygenated state, beneficial for both daily life challenges and the rigors of training.
Breathing During Muay Thai Training
Accurate breathing plays a crucial role in various martial arts workouts, such as Tae Kwon Do and Karate. However, in disciplines like Muay Thai, mastering the proper breathing technique becomes a distinct advantage. It is essential to exhale forcefully in harmony with punches and kicks. Consequently, it's common to hear fighters emit loud moans or cries during training sessions or fights. This audible exhaling aids in channeling power effectively into each strike.
A training wisdom: "If you do not hear yourself breathing, you may not even breathe too!"
Breathing with a Mouthguard
Certain fighters may experience breathing restrictions with a mouthguard. To adequately prepare for a fight and become accustomed to proper breathing while wearing a mouthguard*, it is advisable to incorporate the mouth protection into training sessions several days before the actual bout. If desired, runners can also practice with a mouthguard to gain better control over their breathing techniques when wearing it during a fight.
Have inquiries regarding Muay Thai Breathing Techniques? Feel free to drop your questions in the comments section below!
Visited 124 times, 1 visit(s) today